SCREENERS
Alle screeners zijn beschikbaar in het NanoTrader Full trading platform.
Elke screener komt in drie versies: 'Beursindexen, forex en goud', 'Europese aandelen' en 'Amerikaanse aandelen'.
Alle screeners zijn gratis.
U kan zelf ook screeners samenstellen door gebruik te maken van de indicatoren, koerspatronen, signalen en strategieën die zich in het platform bevinden.
De concepten gebruikt in de screeners zijn meestal ook beschikbaar als trading signaal of strategie.
Informatie
Wat is het verschil tussen een screener en een scanner?
Een screener start wanneer u hem lanceert en stopt wanneer hij alle instrumenten in uw lijst gecontroleerd heeft. Een scanner, ook livetable of quoteboard genaamd, overloopt continu de instrumenten in uw lijst. Scanners worden toegepast op grafieken in kleine tijdseenheden (< 30') waar het belangrijk is onmiddellijk op de hoogte te zijn zodat een positie geopend kan worden. Vanwege het intensief gebruik van de computer worden scanners toegepast op een beperkte lijst instrumenten.
Waar kan ik de screeners vinden in NanoTrader?
De screeners bevinden zich in de Screeners folder in de WorkspaceBar.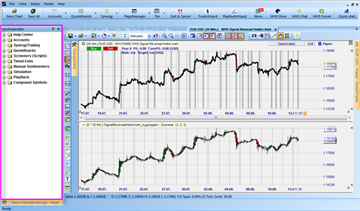 Hoe start ik een screener?
Rechter-muisklik op een screener en kies "Run". Klik "Start". De resultaten verschijnen in een tabel. Dubbel-klik op een instrument in de tabel om de grafiek te zien.
Hoe maak ik mijn eigen screeners?
Rechter-muisklik op de Screeners folder in de WorkspaceBar en kies "New". Geef uw screener een naam. Selecteer het criterium en de instrumenten die u wilt screenen. Selecteer de studie waarmee u de instrumenten wilt screenen. Bewaar uw screener en hij verschijnt in de lijst met screeners.